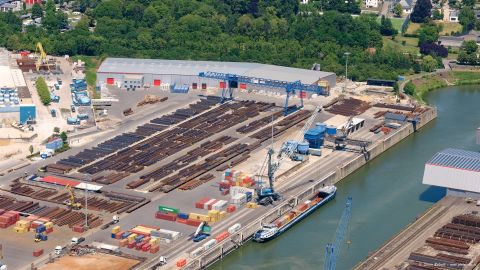 Despite the challenging environment, the "Société du Port de Mertert" presents a large year on year increase of its activities in the Annual Report 2021 and says farewell to the president Mr Jeannot Poeker. After 16 years, Mr. Poeker stepped down as president and gestionnaire dirigeant of the Port de Mertert. In the report, he highlights the main events of his tenure and thanks all the actors and the collaborators that supported the logistics hub. The site is thriving due to the financial and organisational engagement of the companies for 50 years. To support the growth, the government invested more than 20 million Euro in the port infrastructure. Mr Raphaël Zumsteeg took over Mr Poeker's post in 2022.
At the end of 2021, the overall traffic of the port, including land traffic, reached 1,344,282 t against 1,056,448 t in 2020, i.e. an increase of 287,834 t or 27.25%. Total port land traffic (including that to the industrial zone) increased by 57,870 t to reach 408,473 t.
Port Traffic
The export side increased by 51,354 t or 19.75% and reached 311,392 t in 2021 compared to 260,038 t in 2020. Among the mainstay products, there is an increase in iron and steel products of 52,859 t or 50.16% to reach 158,247 t.
Miscellaneous goods, with a tonnage of 153,145 units, recorded a decline of 1,505 t, i.e. 0.97% compared to 2020. Containers fell by 1,723 t to 152,789 tons (-1.12%).
The import side accounted for 624,416 t and thus marked an increase of 184,609 t or 41.98%. Raw materials with a tonnage of 167,724 units increased by 112,623 t or 204.39%.
In 2021, tanker traffic recorded an increase of 40,216 t or 13.55%, reaching 336,908 t. Building materials increased by 28,762 t or 107.26% to settle at 55,576 t. Agricultural products recorded a drop of 1,853 t or 5.30% to reach 33,122 t.
Among the miscellaneous products, there is an increase in empty containers with 14.29%, namely 2,241 t to reach a tonnage of 17,925 units. The precast concrete segments recorded a drop of 5,530 t or 98.77% to reach at 69 t. Other miscellaneous products increased by 8,151 t to reach 13,092 t.
Steel traffic as a whole, river exports and imports combined, reached a total tonnage of 325,971 t in 2021 compared to 160,489 t in 2020. The "terrestrial port" traffic increased in 2021 by 14,679 t or 9.62% to reach 167,223 t. "Industrial zone port land" traffic increased by 37,191 t or 18.23% to 241,250 t.