For more details on Luxembourg's international rankings, you can consult the following link [Fr]: https://odc.gouvernement.lu/fr/statistiques/benchmarks-internationaux.html
Luxembourg ranked in the top 20 globally for its logistics capabilities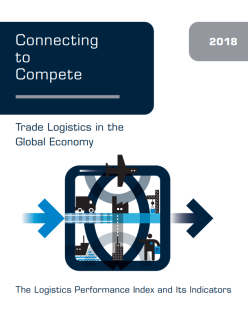 Luxembourg has been ranked sixteenth globally with a score of 3.84 by the World Bank's logistics performance index for 2018, published as part of the sixth edition of its biannual Connecting to Compete study.
The index, headed by Germany with a score of 4.19, measures countries' commercial logistics capabilities on a scale of one to five.
Source: The World Bank
Supply-chain resilience index: Luxembourg a leader ranked 3rd worldwide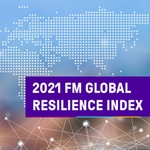 Supply chain risk is a major concern for business, particularly those working across borders. Businesses come to Luxembourg for its expertise in managing these risks and turning them to commercial advantage. This skill is reflected in the 2021 Resilience Index published by the consultants FM Global, with Luxembourg ranked 3rd in the world.
A total of 130 countries were analysed, looking at the state of their economies (productivity, political risk, oil dependency), overall risk levels (the prevalence of natural hazards and management systems), and the supply chain robustness (corruption, infrastructure, supplier quality). Taking all these metrics as a whole, Luxembourg scored 96.7 out of a maximum 100.

Concerning in particular the three sub-categories composing the general composite index, Luxembourg ranks as follows:

Economy – Luxembourg ranks 1st worldwide (100): productivity (100), political risk (92.5), oil dependency in the economy (72.1), urbanisation rate (84.6);
Risks - Luxembourg ranks 15th worldwide (84.6): exposure to natural hazard risks (95.8), potential for improvement in natural hazard risk management (63.7), fire risk management (76.9), cyber risk (56.8);
Supply chain - Luxembourg ranks 25rd worldwide (79.6): corruption control (98.4), infrastructure quality (84.8), corporate governance (63.3), supply chain visibility (69.7).
Find out more about Luxembourg's ranking in the resilience index.

Luxembourg reaches 7th place in the DHL Global Connectedness Index 2020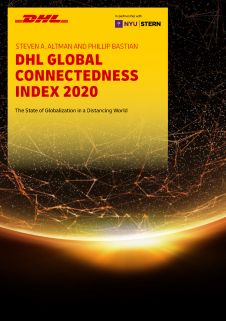 Luxembourg is again in the leading Top 10 list of the most connected countries in the world, according to the DHL Global Connectedness Index (GCI).
The DHL Global Connectedness Index measures each country's global connectedness based both on the size of its international flows relative to the size of its domestic economy and the extent to which its international flows are distributed globally or more narrowly focused.
Luxembourg competitiveness ranked 12th in the world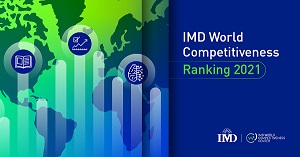 Luxembourg has been placed 12th in the 2021 edition of the World Competitiveness Yearbook ranking compiled by Lausanne-based business school International Institute for Management Development.
Luxembourg scored highly in areas including international trade (7th in the world), productivity & efficiency (6th), finance (10th ), or business legislation (6th).
Read more about Luxembourg's ranking [pdf], in press release (Chamber of Commerce Luxembourg).
Luxembourg among world's top countries in global innovation index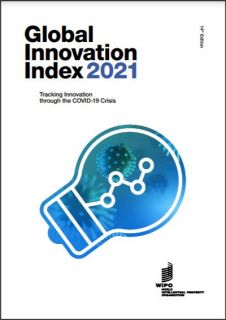 Luxembourg has been ranked 23rd out of 132 countries worldwide in the latest Global Innovation Index compiled by Cornell University and the World Intellectual Property Organisation. Luxembourg is placed eighteenth globally (15th in the EU) in the Innovation Output sub-index and third for creative outputs.

The reports presents the following observation concerning Luxembourg:
"Relative to GDP, Luxembourg's performance is above expectations for its level of development.
Luxembourg produces more innovation outputs relative to its level of innovation investments.
GII strengths for Luxembourg are found in six of the seven GII pillars. In detail, Luxembourg shows strengths in the indicators Political and operational stability, Tertiary inbound mobility, ICT access, Environmental performance, Venture capital deals, Knowledge-intensive employment, Patent families 2+ offices, Intellectual property payments, Cultural & creative services exports, National feature films and Generic top-level domains.
GII weaknesses for Luxembourg are found in all GII pillars. In detail, Luxembourg exhibits weaknesses in the indicators Cost of redundancy dismissal, Tertiary enrolment, Graduates in science & engineering, QS university ranking, Electricity output, Gross capital formation, Ease of getting credit, High-tech imports, Growth rate of PPP$ GDP/worker and Creative goods exports."
Find out more about Luxembourg's ranking in the Global Innovation Index [pdf].
Luxembourg 10th in Digital Economy and Society Index in Europe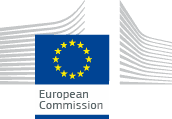 Luxembourg ranks 10th out of 28 EU Member States in the Digital Economy and Society Index (DESI) 2020, lower than in the previous year.
Based on data prior to the pandemic, significant progress is observed on digital public services, rising two positions in the ranking, mainly thanks to digital public services for business and pre-filled online forms of public services. Likewise, Luxembourg improves one position in the ranking on connectivity. By contrast, although it remains above the EU average, Luxembourg's ranking fell on the human capital dimension. On integration of digital technology, Luxembourg's ranking also fell one position and as in previous years it remains below the EU average. The indicator that saw the greatest fall is in the use of internet services dimension, from 9th to 12th position, though it remains very close to the EU average.
In digital public services, Luxembourg has made major progres. It now ranks 14th in the EU, significantly improving its score to more than 1 point higher than the EU average.
Source: European Commission.
A good quality of life for expats in Luxembourg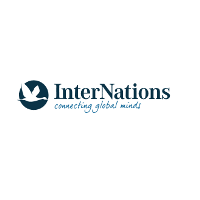 The worldwide expat community InterNations has ranked Luxembourg City 18th out of 66 cities around the world in Expat Insider, an annual survey based on the views of expatriates.
Luxembourg scores highly for quality of life, peacefulness, political stability and is the best for a strong economy and security of employment.
Find out more about Luxembourg City ranking in InterNations [pdf].
More information about Environment and Sustainability in Luxembourg.
University of Luxembourg ranks 3rd worldwide for its "international character"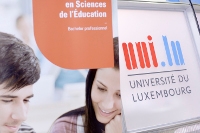 The University of Luxembourg is ranked 20th among the best young universities in the world, according to the latest Time Higher Education (THE) 150 Under 50 Rankings 2021.
The 150 Under 50 Rankings are a global list of the best universities that have been established within the last 50 years. Institutions are evaluated on 13 performance indicators grouped into five categories: teaching, research, citations, international outlook and industry income.
The 2021 Times Higher Education World University Rankings classes the University of Luxembourg in the top 201 to 250 best universities in the world. The University's overall positioning remains unchanged compared to the prior year; however an additional 131 institutions were included in the THE 2021 ranking.
The new classification, published on 2 September 2020, evaluated 1,527 universities in all.
The University of Luxembourg receives its highest scores in the category International Outlook, ranking #3 worldwide (compared to #1 in 2019). The University also ranks among the top 25% of universities in the categories Teaching, Research and Citations.
The Times Higher Education regularly evaluates and classifies universities throughout the world. The University of Luxembourg has been included in the THE classification since 2016. The 2021 classification covers more than 1,500 institutions, compared with 1,396 the previous year.

Source: Times Higher Education
Luxembourg: fourth most competitive financial centre in the European Union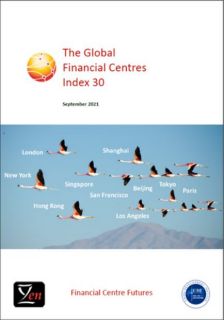 Once again, Luxembourg has been ranked in the first division of global financial centres in terms of competitiveness. In the "Global Financial Centres Index 30" by the consultancy Z/Yen and the Long Finance initiative, the country was placed 23th in the world, but 8th in the regional ranking of Western Europe and respectively 4th among financial centres in the European Union.
These results are based on a survey of financial professionals, plus industry and economic data about one hundred international financial centres. Human capital, the business environment, financial sector development, infrastructure plus reputational and general factors were all taken into account in this report. Luxembourg is highly ranked in human capital (9th) and in financial sector development (13th).
Read more about the Global Financial Centres Index 30 [pdf].
World Economic Forum Global enabling trade report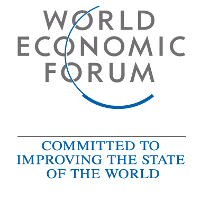 Luxembourg ranks 4th in the Global enabling trade report of the year 2016. Luxembourg has further improved the quality of transport services it can offer to its businesses, moving up nine notches and gaining the top position globally.
In fact, the country now ranks in the top 10 across all the available indicators in this area and 1st for ease and affordability of shipments and their timeliness in reaching destinations.
The quality of its operating environment has also further improved, making Luxembourg the 3rd best country in the world for companies to operate in and the most open to foreign participation.
Source : World Economic Forum.
International Chamber of Commerce (ICC) Open Markets Index 2017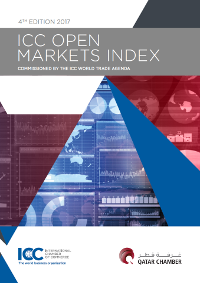 Singapore, Hong Kong SAR and Luxembourg head the 2017 rankings for the 4th successive edition of the report, far outstripping major economies such as the United States in terms of trade openness.
It has to be noted that Luxembourg achieved the highest level of openness in relation to trade to GDP ratio, for merchandise and services imports per capita and in the Logistics Performance Index among others.
Source : International Chamber of Commerce.
Statistics on language learning in primary and secondary schools of the EU Member States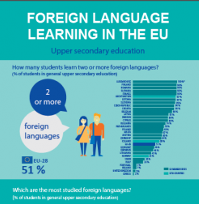 Luxembourg is of particular interest, insofar as there are three official languages, with most pupils receiving instruction in Luxembourgish, German and French in primary education. English is only introduced at secondary school, what makes Luxembourg standing out as the EU Member State with the highest proportion (100%) of upper secondary general education students learning two or more languages.
Source : Eurostat.
Foreign language skills statistics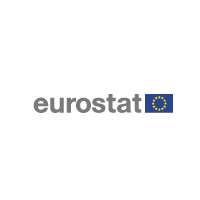 Almost three quarters (72%) of the adult working-age population in Luxembourg know three or more foreign languages. Less than 3 % report that they did not know any foreign language.
The very high proportion of working-age adults in Luxembourg who reported speaking at least three foreign languages may, at least in part, reflect the local administrative and education systems. Indeed there are three official languages in the country and most pupils receive instruction in Luxembourgish, German and French at a primary level of education, with English and other languages being introduced at secondary level.
Source : Eurostat.
EF English proficiency index : Luxembourg, 11th country in the world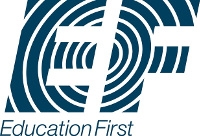 With a score of 610 (very good proficiency), Luxembourg ranks 11th in the EF ranking on the English proficiency index in non-mother tongue countries.
Source : Education First.
Luxembourg among the top 40 countries most ready to benefit from e-commerce (UNCTAD BtoC Index 2020)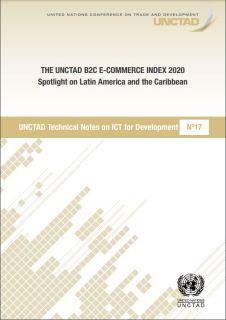 In 2020, Luxembourg was ranked 36th out of 152 countries in the UNCTAD's ranking of those 152 countries' capacity to support online shopping and other business-to-consumer e-commerce.