Logistics companies can find space for renting and building warehouses in many of the activity zones in the country. If the storage management is to be outsourced, several logistics companies offer warehouse room with additional services.
If you are looking for renting a warehouse:
for a surface ranging from 0 to 5,000 m2, you can contact real estate agencies.
for a surface above 5,000 m2, you can contact the Ministry of the Economy
Logistics park Eurohub South
In order to facilitate the establishment of new logistics activities, interested companies have the possibility to rent a warehouse within the Eurohub South logistics park. For this purpose, the Luxembourg Government has partnered with WDP (a logistics real estate specialist) in order to provide about 100,000 m2 of class-A warehousing facilities (4 buildings of 26,000 m2 each) according to the latest standards in sustainable development. The warehouses are available for rent in allotments of 5,000 m2 and are next to the rail/road multimodal platform in Bettembourg.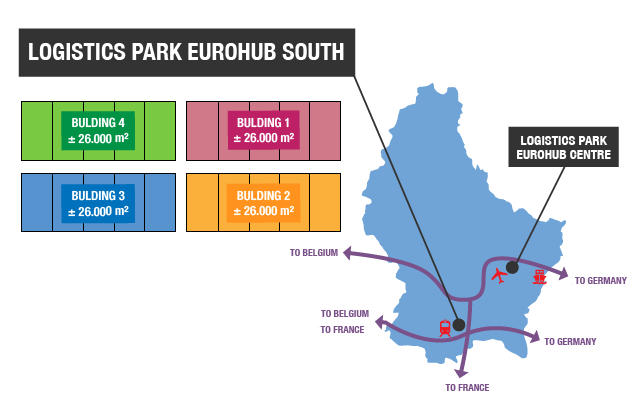 Technical description
Surface area for each building:
Total surface area: 26,512 m2
Logistics surface area: 25,948 m2
Office surface: 558 m2
5 cells
Length: 260 m
Width: 100 m
Height: 10 m
Equipment in buildings:
Motorised dock doors, all equipped with hydraulic levers and dock seals
Sectional doors with access ramps
ESFR sprinklers, fire detection and free protection systems
Floor load: 5t/m2
Loading bays for fork-lift trucks
Reversible air conditioning systems in offices
Sites reserved for waste compactors
Parking spaces for HGVs and cars
Facades and roofs insulation (cladding double skin)
Glazed frame offices in double glazing blade of argon