Logistics hubs
Several activity zones have been developed as dedicated logistics parks.
Eurohub Centre situated close to the airport at Contern hosts logistics activities related to air freight. It has already been operational for several years, hosting well-known international logistics service providers.
located on 18 hectares of land
close to the airport

land available to build a warehouse.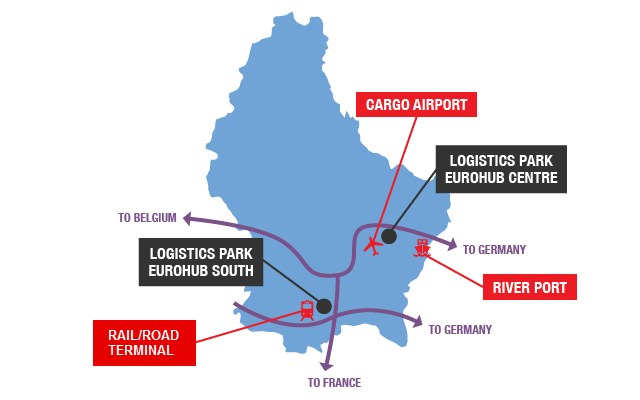 Eurohub South situated at Bettembourg is dedicated to railway logistics. Eurohub South is developing as an extended gateway to major European ports. Indeed, it has a direct railway connection to the main European ports, a direct access to the major motorways and is neighboured to the container terminal, the marshalling yard, as well as the rail/road terminal.
located on 52 hectares of land
connected to the rail/road platform
land available to build a warehouse
possibility to rent a warehouse.
The river port in Mertert is the only trimodal platform of the country.
possibility to rent a warehouse near the platform.
Activity zones
Luxembourg has around 20 economic activity areas at the national and regional levels. These areas host logistics activities from various private companies.
Real estate solutions can be provided if you want to setup your logistics activities in Luxembourg, by renting a warehouse or acquiring land.