The Bettembourg multimodal platform links Luxembourg and its neighboring countries to the rest of the Europe by road and rail with access to Italian, Spanish, Eastern European, UK and Scandinavian markets.
Even though the country does not have direct access to the coast, it is connected to many large European ports such as Antwerp, Zeebrugge, Rotterdam and Hamburg in the north and Barcelona, Marseille, Genoa and Trieste in the south, through a dense rail network and the Rhine-Moselle river route accessible from the Mertert river port.
Rail freight services are presented on the CFL (Luxembourg national railway company) website.
CFL cargo and CFL multimodal, in collaboration with various partners, offer transport to more distant destinations: Turkey.
For example, MARS Logistics, a Turkish logistics company long established in Luxembourg, started a two-way combined train shuttle between Bettembourg (Luxembourg) and Trieste (Italy) in 2012. These trains transport goods to and from Turkey, thus connecting the European continent with Asia.
With several round-trip journeys per week, the train transports semi-trailers with goods from several points of departure inside Turkey, transiting via the ports of Istanbul, Izmir, and Mersin to Trieste. From Trieste, the semi-trailers continue their journey by train, passing by the multimodal terminal of Bettembourg to various destinations in Luxembourg, Belgium, the Netherlands, United Kingdom, France, Germany, and back.
From the point of departure to the final destination, each semi-trailer travels more than 2,500 km. This helps disencumber the roadway network and represents a 75% reduction of CO2 emissions compared to the equivalent highway transport from start to finish.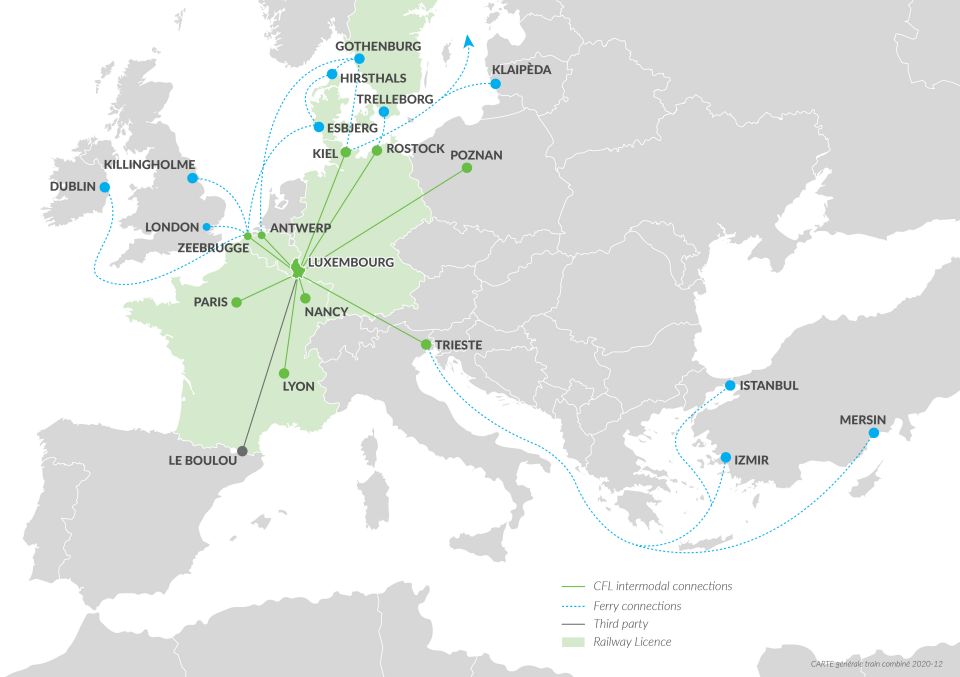 AT A GLANCE
scheduled road connections to major European ports

reliable rail connections to ports of the North Sea, the Baltic Sea and the Mediterranean Sea

multimodal services with well-equiped container terminal, rail motorway platform and combined terminal

rail freight services with marshalling yard and long haul transeuropean services.