Definition
A permit to transfer firearms gives authorization to transfer a firearm to another Member State of the European Union (EU).
This permit must accompany the civil arms to their destination and must be presented upon any request by authorities.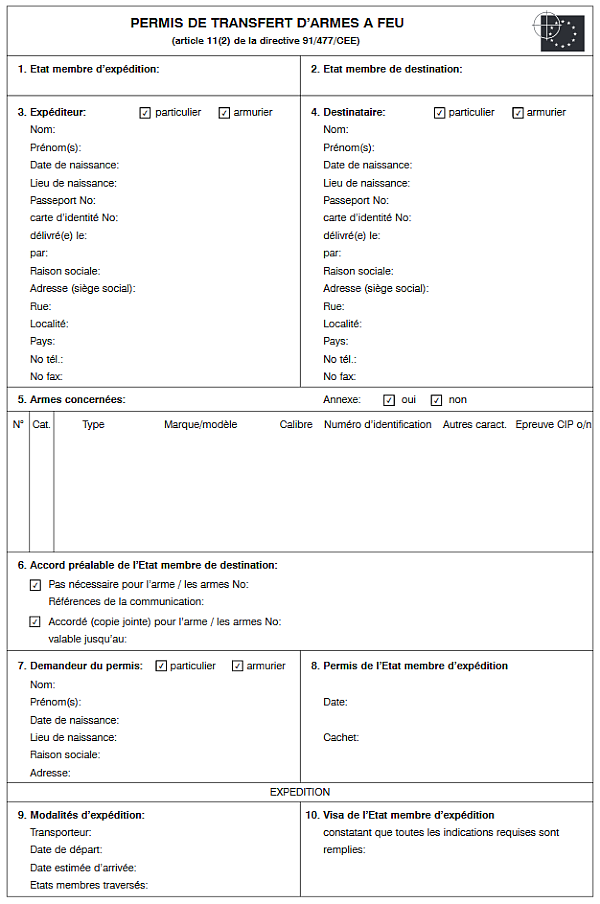 Related products
The firearms transfer permit concerns all firearms and ammunitions whose acquisition and ownership is not part of the armed forces, police and/or public services.
These arms are classified in different categories according to their characteristics.
The trade of Category I firearms is strictly prohibited. However, the Minister of Justice can grant an authorization by exception for any arms and ammunitions:
that are antiques, objects of art or decoration, or that are part of a collection or display
that are used for scientific or education purposes
that originate abroad and are intended to be taken abroad.
The import, manufacture, processing, repair, acquisition, purchase, ownership, storage, transport, sale, assignment, export and trade of Category II arms and ammunition falls under the authority of the Ministry of Justice.
The list of categories of arms is published in an appendix to the law.
Related documents
The prior consent of the Member State of destination for the final transfer of firearms is required for the delivery of a firearms transfer permit.
In the case of approval for a maximum time of three years allowing the transfer of arms between accredited arms dealers within the EU without prior ministerial authorization, a document mentioning this approval must accompany the arms until their destination.
Related procedures
The following procedures are available on the Guichet.lu website:
Related Organizations
The Arms Service of the Ministry of Justice is exclusively in charge of authorization procedures for the circulation of civil firearms.