Definition
The ATA Carnet is used for temporary exports and imports, under duties and taxes suspension, of goods that will be used and then re-exported without any changes.
It facilitates the circulation of goods between the member countries of ATA chain by simplifying the procedures for temporary admission: it substitutes for customs declarations and guarantees that, without the ATA Carnet, must be established locally.
The ATA Carnet, that physically accompanies the goods, is valid for a maximum duration of 12 months.
At first, the operator must present the Carnet and the goods to the customs office nearest to the company for identification of the goods and registration of the Carnet. Then, with the progress of operations, the operator will again present the goods and the Carnet to local customs offices on entry in and exit from a new territory.
If non-Union goods are used in the European Union, the ATA Carnet will be theoretically issued in the country of departure of the goods.
If Union goods are used outside the European Union, and exported from Luxembourg, the request must be made in Luxembourg from the House of Entrepreneurship – One-Stop Shop.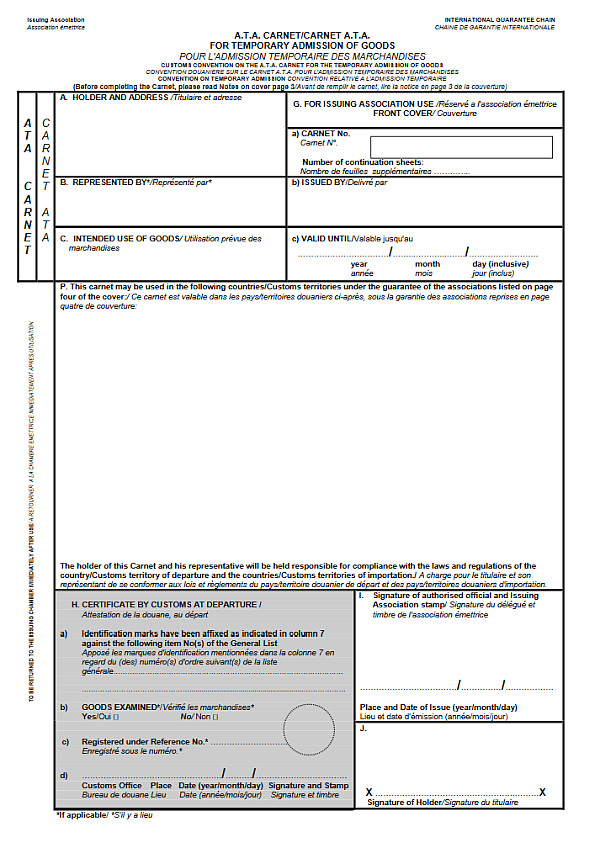 Related products
The ATA Carnet can be obtained for the following goods:
goods used as part of an exhibition or to carry out tests
samples used for showing to potential buyers
business equipment used for a determined period of time
animals used for training, livestock, veterinary care or competitions.
The ATA Carnet does not cover perishable or consumable goods.
Related procedures
The following procedure on the Guichet.lu website describes how to apply for the ATA Carnet:
Obtaining an ATA Carnet requires payment of fees, determined according to the value of the goods. Fees cover administrative costs and the risk of payment of duties and taxes and will not be reimbursed.
Related documents
Depending on the type of goods, the ATA Carnet is accompanied by other required documents and certificates, such as, for example: CITES permit, health certificate, export license for cultural goods...
Related organizations
In Luxembourg, the ATA Carnet is delivered by the Chamber of Commerce.