Definition
The export license for cultural goods is the permission given by a Member State of the European Union (EU) to remove cultural goods from the EU customs territory.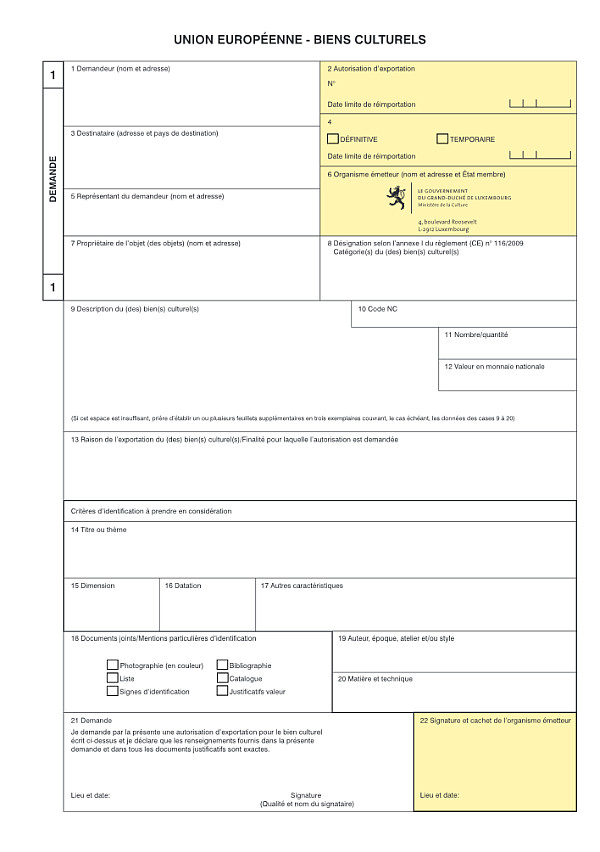 Related products
The cultural goods defined by national and community laws and international agreements requires an export license to be taken out of the EU.
Goods considered as "national treasures with an artistic, historical or archaeological value" are also concerned, in compliance with the national legislation of the Member States.
For example: archaeological objects older than 100 years of age, pictures and paintings, watercolors, gouaches and pastels, mosaics, engravings, photographs, books, geographical maps, archives, means of transportation, etc.
Related procedures
Any operator who wishes to temporarily or definitively export cultural goods must apply for :
either a standard license
or a specific open license: for the temporary and legal exportation of specific cultural goods by a person or an organization
or a general open license: for any temporary exportation of cultural goods belonging to the permanent collection of a museum or another institution.
The procedure for applying for these licenses is described on the Guichet.lu website:
Note: an export license delivered by a Member State is valid throughout the EU.
Related organizations
In Luxembourg, the Ministry of Culture is in charge of providing for the uniform control of cultural goods at outside borders of the EU, in collaboration with the Customs and Excise Administration and delivers export licenses as necessary.