Definition
FLEGT authorizations, which stands for Forest Law Enforcement Governance and Trade, are documents issued by timber producing countries that have approved a Voluntary Partnership Agreement (VPA) with the European Union (EU).
This authorization confirms that the timber or timber products fully comply with the laws of the exporting country.
Timber under FLEGT license and its timber products are then considered as compliant with the requirements of the EU Timber Regulation, which prohibits EU importers and EU timber producers from placing illegally harvested timber or timber products on the EU market.
Note: certification, i.e. the procedure for evaluating the risks of their system of due diligence and verification by a third-party includes a mechanism for the verification of the compliance with applicable laws, must not be confused with FLEGT license and is not proof of legal sourcing of timber.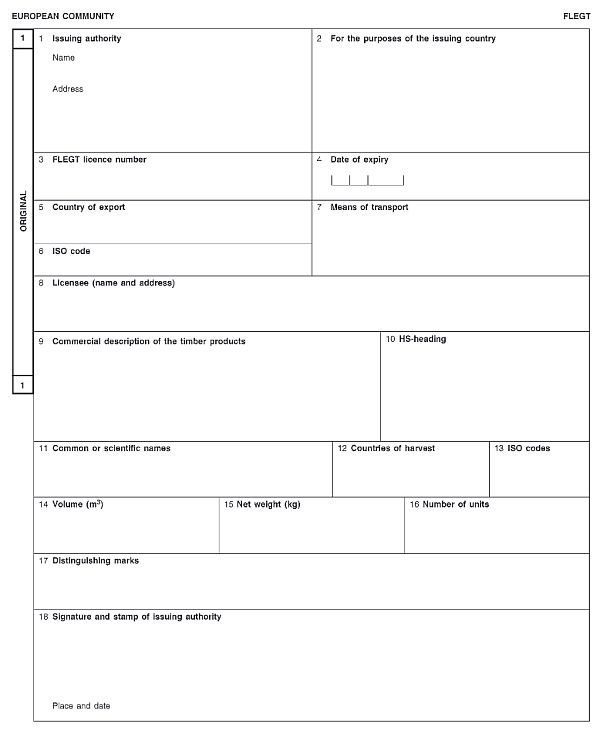 Products concerned
Each VPA includes an appendix indicating the products covered by the FLEGT licensing scheme of the country in question. These are :
example: logs

example: heating timber, chips, pellets

example: lumber, veneers, plywood, wood fiber or particle board

example: furniture, frames, floor coverings, boxes, beams

Related documents
Starting 15 November 2016, operators importing timber and timber products from Indonesia must present a FLEGT license delivered by the competent Indonesian authorities. This authorization will then be validated by the competent authority of the EU Member State in which the release for free circulation took place. The importer must use the TRACES.NT system to notify the FLEGT license to the Member State of destination.
Note:  other Voluntary Partnership Agreements are being implemented with Cameroon, the Central African Republic, Ivory Coast, the Democratic Republic of the Congo and the Republic of the Congo, Gabon, Ghana, Guyana, Honduras, Laos, Liberia, Malaysia, Thailand and Vietnam.
The timber must also be accompanied by a phytosanitary certificate which must be recorded in the TRACES.NT system. Some protected essences, moreover, may require a CITES permit.
Related organizations
In Luxembourg, the Ministry of the Environment, Climate and Sustainable Development, via the Nature Conservation Agency is the competent authority for receiving, accepting, and verifying FLEGT authorizations issued by the delivering authority in the partner country.
Once the authorization has been approved, the importer can send it to the Customs and Excise Administration to carry out the customs clearance of the goods.