Definition
The phytosanitary certificate accompanies plants and plant products on export or re-export. It certifies that the plants and plant products have been declared compliant with the phytosanitary regulations of the importing country.
In the case of import of plants or plant products to Luxembourg, a phytosanitary certificate issued by the National Plant Protection Organization of the exporting country is required.
If the plants or plant products are exported from Luxembourg, the phytosanitary certificate is issued by the Administration of Agricultural Technical Services (ASTA).
When certain plants and plant products circulate within the European Union (EU) in order to be used in the EU, a plant passport is needed.
If these products circulate between countries of the EU in order to be exported to third countries, an intra-EU phytosanitary communication document is necessary.
To issue these phytosanitary documents, the ASTA must have the opportunity to perform a phytosanitary control of the goods.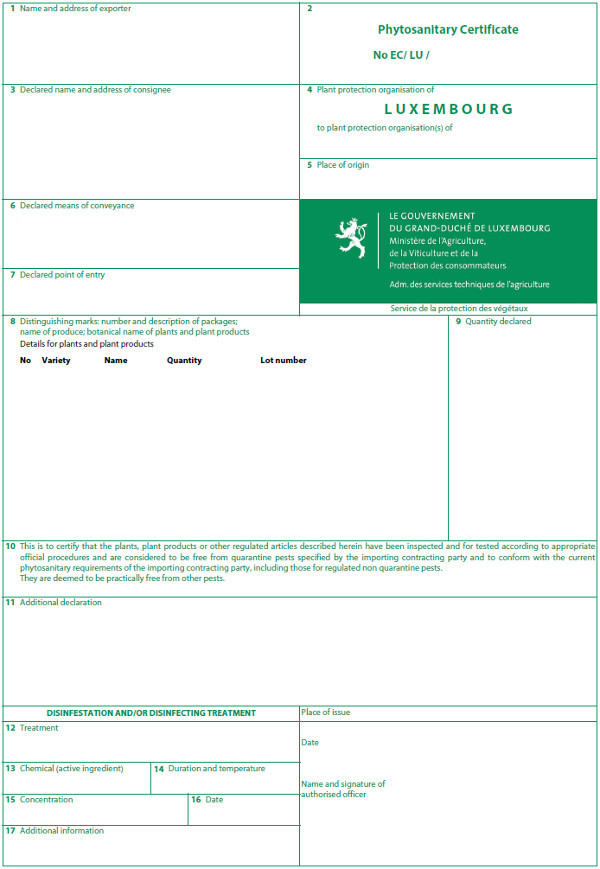 Related products
Some plants and plant products (plants, raw fruits and vegetables, etc.) need a phytosanitary certificate/plant passport for international transport when required by the destination country.
Fruits, vegetables and other plant products that have been processed are in general not concerned by the phytosanitary certificate. They are considered as foodstuffs and need a health certificate.
For example: frozen vegetables and chopped fruits are not concerned by the phytosanitary certificate.
Some wood packaging materials, such as pallets, need a phytosanitary certificate, which is generally replaced by the ISPM 15 seal.
Related procedures
Requests for phytosanitary certificate/plant passport are available on the Guichet.lu website:
The following procedures may also interest you:

Related documents
The transport and commerce of plants and plant products originating from species protected by the CITES convention requires a CITES permit in addition to the phytosanitary certificate.
Related organizations
The Administration of Agricultural Technical Services delivers these certificates in Luxembourg.