Definition
Wood used as packaging or dunnage material for food or non-food products is considered a plant product.
This concerns solid wood of a thickness equal or greater than six mm and not chipboard.
Obligations and controls
The European Union (EU) adheres to ISPM 15 for all packagings made of wood.
All companies exporting their products using wood packaging (for example pallets) must use treated and debarked wood. They must treat it themselves or purchase it from authorized companies.
In Luxembourg, companies treating their wood packaging material themselves are inspected and approved by the Administration of Agricultural Technical Services (ASTA).
Certain wood packaging materials must be pre-notified in TRACES.NT and subject to phytosanitary controls by the ASTA when they are imported.
Related documents
Wood packaging material processed according to ISPM 15 bears the IPPC seal, that contains a unique code for each company and thus replaces the plant passport for intra-community transport and the phytosanitary certificate for export. It also indicates the manner in which the wood was treated (for example HT = Heat Treatment).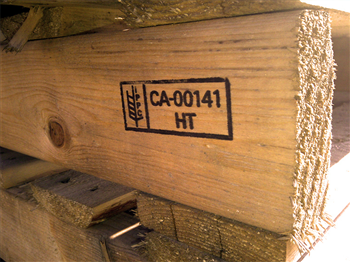 This seal must meet the following requirements:

be durable and non-transferable
be visibly positioned, preferably on two opposite sides of the certified object
the use of the colors red and orange must be avoided because these colors are used to mark dangerous products
wood pallets must be re-certified or re-marked if they are reused, recycled or repaired. All elements of such a pallet must be treated as specified
shippers should be invited to use wood that is compliant and marked
the marking must only be destroyable by total combustion.
The following companies are registered to handle Wood according to the ISPM 15 norm.
(Click on the name to show contact details)
Maison Kasel S.àr.l.

Tom Kasel

12, Zone Industrielle, L-9166 Mertzig

Tél: 88 83 34-1/ 88 83 34-23

No. d'enregistrement: 079
Bois Scholtes

Pit Scholtes

1, ale Berburger Wee, L-6850 Manternach

Tél: 71 02 24-1

No. d'enregistrement: 101
Bois Brever SA

Michael Marx

7, Stawelerstr., L-9964 Huldange

Tél: 99 85 64-1

No. d'enregistrement: 096
No-Nail Boxes (Europe) SA

Stephane Guirsch

Zone d'activité B.P., L-9559 / L-9502 Wiltz

Tél: 81 92 81-1/ 81 92 81-221

No. d'enregistrement: 086
C.I.R.P.

19, rue de l'Industrie, L-8089 Bertrange

Tél: 31 22 41-1

No. d'enregistrement: 091
John Zink international Luxembourg S.àr.l.

c/o Anais Zampetti

1, z.i. Riedchen, L-3451 Dudelange

Tél: 51 89 94-50

No. d'enregistrement: 094
Tranelux

13, rue E. Reuter, L-5326 Contern

Tél: 34 16 26

No. d'enregistrement: 097
CTI SARL

Nicole Bastiansen | Alexander Born

12, op der Sang, L-9779 Lentzweiler

Tél: 26 85-2948

No. d'enregistrement: 103
Euro- Composites S.A.

Tanja Berens

Zone Industrielle B.P. 24, L-6401 Echternach

Tél: 72 94 63-280

No. d'enregistrement: 105
W.S.A.

Jerome Neumann

Rue de Limpach, L-4467 Soleuvre

Tél: 593061

No. d'enregistrement: 107
Lindab

Mario Martello

34, Route d'Ettelbrück, L-9230 Diekirch

Tél: 80 29 12-503

No. d'enregistrement: 109
Telus

Alexei Mintchenkov

23, Salzbaach, L-9559 Wiltz

Tél: 20 30 15-04 / 20 30 13-44

No. d'enregistrement: 110
Luxport

Christian Schulz

Port de Mertert L-6688 Mertert

Tél: 749610-335

No. d'enregistrement: 111
Logico

Alexandre Tomaszkiewicz

route de Longwy 418 L-4832 Rodange

Tél : 2650298324

No. d'enregistrement: 112
Keller Minimal Windows

Samuel Kessler

38-40 route de Wilwerdange, L-9911 Troisvierges

Tél : 28386601

No. d'enregistrement: 113
Related procedures
A company that wishes to have its packaging wood marked must have a registration number. To obtain this number, it must request the number in writing from the plant protection service of the ASTA, mentioning the reason for its request:
either for wood treatment in a treatment facility (IT)
or as a manufacturer of packaging material (FM).
Related organizations
The Administration of Agricultural Technical Services (ASTA) is in charge of phytosanitary inspections for wood packaging materials.