Definition
Wood used as packaging or dunnage material for food or non-food products is considered a plant product.
This concerns solid wood of a thickness equal or greater than six mm and not chipboard.
Obligations and controls
The European Union (EU) adheres to ISPM 15 for all packagings made of wood.
All companies exporting their products using wood packaging (for example pallets) must use treated and debarked wood. They must treat it themselves or purchase it from authorized companies.
In Luxembourg, companies treating their wood packaging material themselves are inspected and authorized by the Administration of Agricultural Technical Services (ASTA).
Certain wood packaging materials must be pre-notified in TRACES.NT and subject to phytosanitary controls by the ASTA when they are imported.
Related documents
Wood packaging material processed according to ISPM 15 bears the IPPC seal, that contains a unique code for each company and thus replaces the plant passport for intra-community transport and the phytosanitary certificate for export. It also indicates the manner in which the wood was treated (for example HT = Heat Treatment).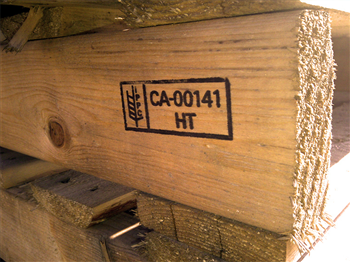 This seal must meet the following requirements:

be durable and non-transferable
be visibly positioned, preferably on two opposite sides of the certified object
the use of the colors red and orange must be avoided because these colors are used to mark dangerous products
wood pallets must be re-certified or re-marked if they are reused, recycled or repaired. All elements of such a pallet must be treated as specified
shippers should be invited to use wood that is compliant and marked
the marking must only be destroyable by total combustion.
Related procedures
A company that wishes to have its packaging wood marked must have a registration number. To obtain this number, it must request the number in writing from the plant protection service of the ASTA, mentioning the reason for its request:
either for wood treatment in a treatment facility (IT)
or as a manufacturer of packaging material (FM).
Related organizations
The Administration of Agricultural Technical Services (ASTA) is in charge of phytosanitary inspections for wood packaging materials.