Definition
The declaration of shipment of sealed sources is a document authorizing the circulation of radioactive sources between two Member States of the European Union.
This document certifies that the State that will receive the sealed radioactive sources is well aware of the transfer and has given its prior authorization. It allows the national authority to collect information related to the transfer and implement controls for the protection against ionizing radiation.
The person responsible for the physical control of a Luxembourg establishment receiving a sealed source must apply to the Radiation Protection Department in Luxembourg. Once the document has been obtained, the establishment will send it to the supplier of sealed sources prior to the departure of the goods. The document will accompany the goods during their transport.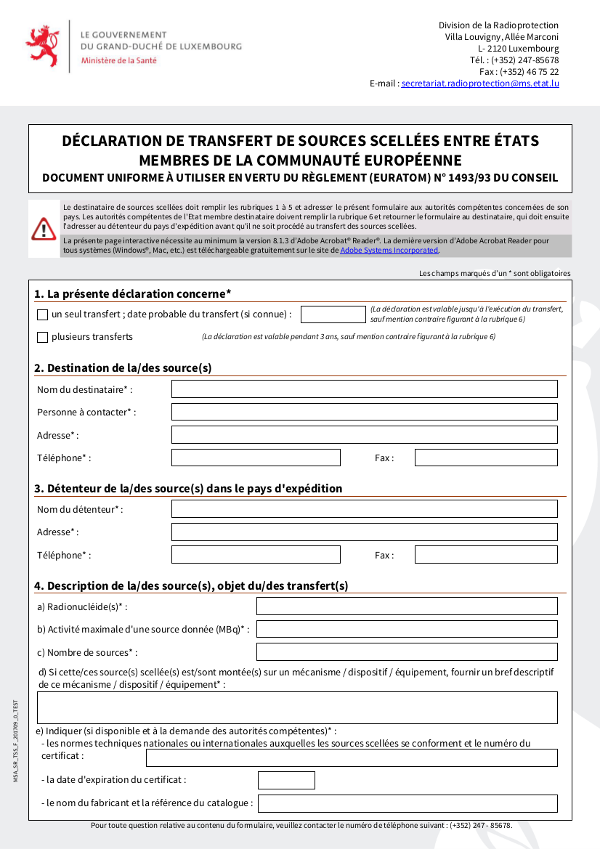 Related products
This declaration is required for all sources capable of emitting ionizing radiation, including the devices, constituted by radioactive substances embedded in solid materials and effectively inactive, or sealed in an inactive envelope with adequate resistance to prevent any dispersal of radioactive substances.
Related procedures
The following procedure is described on the Guichet.lu website:
Related organizations
The declaration of shipment of sealed radioactive sources must be submitted to the Radiation Protection Department of the Ministry of Health.