Definition
The certificate of origin justifies the non-preferential origin of goods.
On importation in the customs territory of the European Union (EU), the non-preferential origin determines the application:
It is also used for the origin marking on products ("made in").
The certificate of origin is completely different in its form and function from the certificate of preferential origin.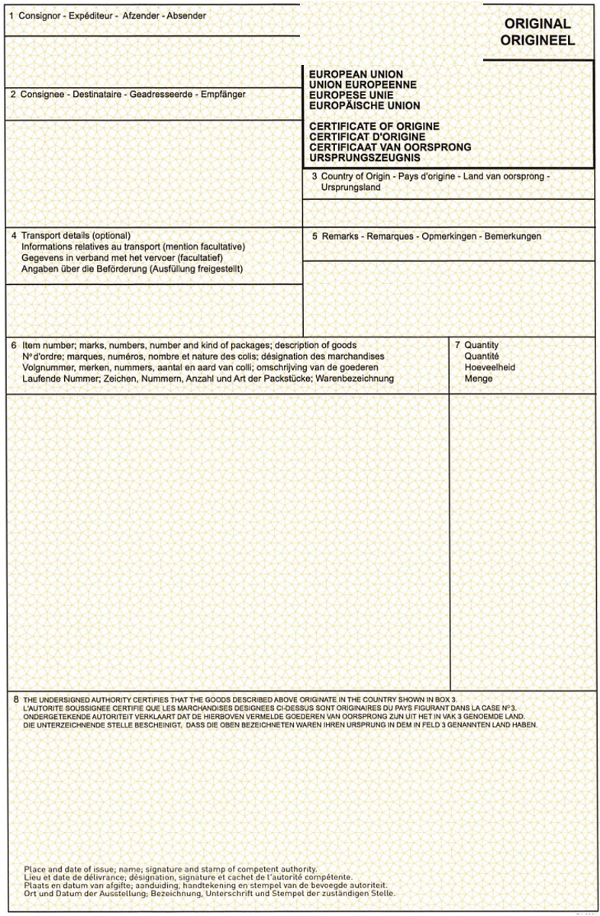 Certificates of origin on importation
On importation into the EU, a certificate of origin is usually not mandatory.
The following are cases in which a certificate of origin must however be presented at the time of customs clearance:
when the company imports agricultural products into the EU as part of tariff quotas set by the World Trade Organization (WTO). The provision of a certificate of origin in a specific form is then required
if the Customs and Excise Administration suspects circumvention of certain commercial policy measures
For example: products manufactured in China on which high anti-dumping duties apply are declared as being of another non-preferential origin to circumvent the application of duties.
Except for importations of agricultural products under WTO quota, the form of the certificate is open. It must originate from an agency authorized to deliver it in the country of exportation.
Certificates of origin on exportation
When goods are exported from the EU, the country of destination determines whether a certificate of origin must be provided.
If the goods are not produced in Luxembourg, an additional document may be required (in particular a supplier's declaration).
Related products
A certificate of origin may be requested for any type of goods.
Related procedures
The procedure to request a certificate of non-preferential origin to export goods is described on the Guichet.lu website:
Related organizations
In Luxembourg, certificates of origin are delivered by the Chamber of Commerce.