The logistics chain requires the involvement of private actors, that mainly provide transport and related services, and government agencies. These administrations are in charge of conducting controls (documentary, identity and physical) and issuing certificates, permits or authorizations.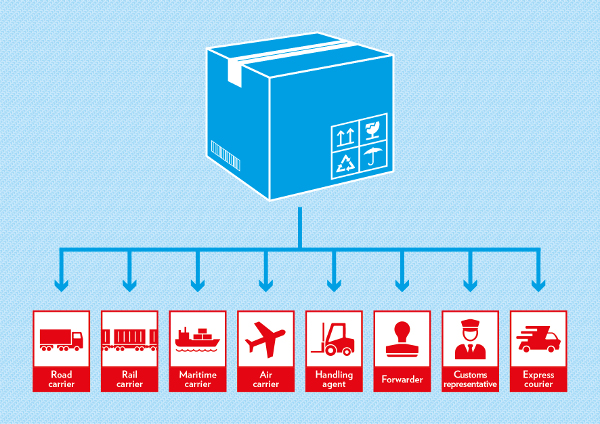 Private actors
Forwarder
A forwarder is a company appointed by the consignor or the consignee of goods that must use several successive transports. Its mission is to organize the links between different carriers in order to provide continuity of transport, as well as all other related administrative procedures.
The forwarder organizes transport and undertakes administrative procedures to efficiently ship the combined goods of different customers.
International forwarders have additional skills that allow them to assume the preparation of import-export documents, procedures with other agencies if necessary and customs clearance of the goods.
Handling agent
A handling agent is a service provider that is authorized to act on behalf of the carrier to receive freight and to perform all handling operations needed for transporting goods: unloading, storage, preparation, wrapping, packaging, etc.
Carrier
A carrier is a company that guarantees the shipment of goods to a given place, through the use of vehicles, ships, trains, airplanes or by specific means. The work is carried out under a carriage contract.
According to the means used, the following are distinguished air transpor, land (road) transpor, rail transpor, river transport, and maritime transport.
When the carrier uses several means of transport for a contract, it uses combined or multimodal transport.
Express courier services
Express courier services designates companies offering delivery of small packages and parcels, with short delivery time from a place of loading decided by the carrier to a place of delivery.
The main characteristics of this type of transport are the speed of delivery chosen by the customer as well as the ease of transport.
Customs representative
A company established in the European Union (EU) that imports or exports goods to Luxembourg or that uses suspensive customs procedures may file its own customs declarations.
If it wishes to benefit from the expertise of a professional, it may decide to work with a customs representative approved by the Customs and Excise Administration.
The customs representative, also called a customs agent or customs broker, will then file the customs declarations in its name, but on behalf of the company (called "indirect" customs representation). The customs representative and the company are jointly responsible for paying of the customs debt.
It should be noted that starting from 1 May 2016, a customs representative that is an OEAC or OEAF authorized economic operator may act as customs representative in all Member States of the EU.
VAT Fiscal representative
A foreign company that delivers goods (following a sale) from Luxembourg or that purchases and receives goods in Luxembourg must declare its transactions to the Luxembourg Registration Duties, Estates and VAT Authority (AED). If it is not established nor register for Luxembourg VAT, instead of registering itself, it may appoint an approved Luxembourg tax representative that, after accepting the mission, will fulfill the VAT obligations on its behalf.
Diagrams of the logistics chain
The following diagrams show the involvement of different actors in the movement of goods: